Organization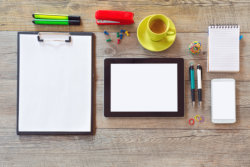 The office of a business should be arranged in a productive order. If your office is cluttered it gives clients the sense that your program is unorganized as well. An office and foyer can obtain a lot of materials and information. Throughout this section I will provide information that can be used to categorize an office, tips to utilize and daily task that will be beneficial.
Desk
Keep the desk clean and uncluttered
The desk can be set up in two ways:

The first set up is having the essentials items that will be used frequently on top of your desk. Computer, stapler and tape dispenser can sit next to organizers that store thumb tacks, paper clips, writing tools, etc. If others will have access to your office, just remember that the items present on your desk will invite others to use your materials.

The second set up is when not utilizing the items listed above, they can be stored in the desk drawer or a cabinet parallel to the desk. This allows space for the computer, lamp, photos, plants, etc. Makes your office look original, comfortable and cozy.
Files
Files that are used on a daily basis should be stored close to the desk for easy access.
The childrens file folder should include:

Child record checklist
Enrollment application
Transportation release
Photo release
Agreement form of operational procedures
Tuition Agreement

These forms can be found in the forms section.
Immunization record, photo identification of parents, identification of people to release children to, and any prior important forms related to the child such as incident reports should be in the file.
Enrollment packages can already be prepared with all necessary documents readily available for prospective parents. Two enrollment packages should be available, a school age and non-school age package with appropriate forms. All forms can be found in the form section.
Each employees file folder should include:

Employee record checklist
Application
Resume
Background checks
Certificates
Diploma
Degree certificates
Copy of photo identification
Social security card
Evaluations
W-4 form

Employee record checklist and evaluation form can be found in the form section.
Some states require more or less forms in the file folder. Check with local licensing to be sure you are in compliance.
Label files with a sharpie and file folder labels.
The information on the label of a childs file should include name, date of birth (DOB) and start date (SD).
The information on the label of an employee file should include name, and start date (SD).
Color coding the files makes it simple to find files. Files can be colored coded as follows:

Purple – infant and toddlers
Yellow – two year olds
Green – three – five year olds
Blue – school age
Manilla – documents
Red – blank forms
Pink – employee files
All information is confidential and should be in a cabinet that can be locked.
Tip - if you have a color shortage on one of the color files, temporarily you can use a manila file folder by color coding it with a marker dot.
Supplies
Concentrate on supplies that will be used often. Store these supplies within reach in a cabinet as I described earlier.
A list of materials needed for the office can be found in the New center start up section.
Binders should be labeled and standing on a shelf next to the desk for easy access.
Binders that will be useful to have at your finger tips should include the building and playground safety checklist, emergency evacuation information, employee training documentation, tuition payments, parent emergency contacts and phone numbers. These forms can be found in the form section. The information for the Minimum standards binder will be supplied by your licensing representative and the food program information and forms will be supplied by your sponsor of the Federal food program.
Books
All books should be categorized according to the type of book it is - curriculum, catalogs, informational, training, etc.
Storage trays
Trays can be used to organize outgoing/in going mail, to be filed or to complete.
Stacking trays are handy for keeping papers together and neat.
Wall postings
Presentation of how you display the wall postings should look attractive and coordinate with your décor.
Postings can be framed by colors to match your color theme. This allows your office to look informative but attractive.
Emergency numbers such as; police, fire, hospital, poison control, child abuse and neglect hotline, etc. should be posted next the the phone,
Each state requires basic information to be posted. Some states require more/less to be posted. Check with your state to see your requirements.
Basic requirements are as follow; licensing certificate, director certification, most recent
licensing inspection, emergency numbers, emergency evacuation charts, fire and disaster drills, pest control, state representative contact information, food management certification, menu, current employees, etc.
Limit to what you post on your office walls by what is required to be posted. The other forms can be put in a binder and stored on the shelf for easy access to view as needed.
The parent board should include important information and be visual for the parents. Information can include upcoming events, a letter from the director, academic calendar, themes, state representative contact information, newsletter, parent articles, employee of the month, etc. The parent board should be attractive and changed frequently to be eye catching to parents.
A sample and a blank form of upcoming events, academic calendar, themes, and newsletter can be found in the form section.
The employee board should contain reminders, articles, schedule, paydays, upcoming trainings and meetings.
The Bulletin board can be changed with themes, seasons or holidays that would require to be changed periodically. A bulletin board that can be long term can include prior events, photos of the children engaged in different activities, etc.
Classroom
All forms should be readily available within the classrooms for teachers to utilize.
Classrooms should be stocked with blank incident reports, lesson plans, parent contact notes, classroom cleaning checklist, etc. These forms can be found in the form section.
Monthly each classroom should be given a monthly attendance form, birthday updates, new allergy list of the children, menu, etc.
Evacuation charts should be posted at each exit in the classroom.
The parent board should provide the daily routine, lesson plan, upcoming events for the class, parent reminders
An example of the hand washing chart can be viewed below.

Hand washing chart should be posted by the sink and should have photographs for the children to follow.
Sanitizing charts should be posted and each bottle should be labeled step 1, step 2, step 3 for proper cleaning. A copy can be found in the form section.
Classroom rules should be simple and posted with pictures for the children to follow.
Daily routine for the children can be posted with photos for the children to know what activity is next.